The "TOUR OF AMERICA 2 - The Northern Route" has completed!
July 18 - August 3, 2009 (2:25am!!) after 8,275 miles round trip!!!!!

---
7/18/09: Lake Mary, FL
The trip begins!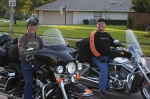 CLICK HERE TO SEE ALL TRIP START PICS
7/18/09 - 7/20/09: Lake Mary, FL to Cleveland,TN to near Detroit,MI to Iron Mountain,MI
Unfortunately rain during the first and second days made photography impossible of the more interesting sights....First day left Florida and hit rain in north through to into Georgia. Decided to try "shortcut" to Deals Gap and to run "The Dragon"...Got close to Deals Gap but it was getting towards dusk and the only thing worse than running the Dragon at all - is doing it in the dark! Rode a long long long way to Cleveland, TN in the dark! (Day 1: FL to GA to NC to TN!). Day 2 we got on 75 and headed north to Detroit, through Kentucky, Ohio, and then raining again into Michigan..and more darkness! Stopped in Detroit for gas and to put on our raingear...would not stop at that exit ever again! ..Not the best part of town..but rain and gas made us stop! Jim's new Garmin told us we had 56 more miles to go...miserable rain, cold, dark, can't see....this isn't fun any more! But Mike (Keeli's cousin) guided us to his home and life is good again! Talked until 1:48am and then decided to get some shuteye!!! (Day2: TN to KY to OH to MI!). Day 3: Rode up to Mackinaw Bridge (featured on Discovery Channel "Dirty Jobs"). On the way we passed over the 45 Parallel..this is halfway between the equator and the north pole, Science Fans! The suspension bridge built in 1957 is 5miles long, kind of REAL high, subject to VERY HIGH winds and has 4 lanes, two of standard concrete and two of grating...you can imagine my concern since I am scared to death of heights. It's not like I can close my eyes for 5 miles, riding my motorcycle over....When the winds get bad enough they escort the vehicles crossing so that they go slow enough and there are no "car splashes" 140+ feet below! I get my camera in hand and begin the longest ride of my life across a bridge...and you can then imagine my surprise when I get to the suspension part of the bridge and they have closed it down to one lane each way...guess which ones! The damn grated lanes! HOLY CRAP! So there I was, at what seemed like a mile or two in the air, looking down through the grating at the seagulls below, motorcycle wobbling back and forth over the grating, camera in my hand and the damn thing wouldn't take pictures (found out later that I had inadvertently put it in "view mode" and was trying to take pictures!). It took me a half hour to get my heart rate back down to just 200 or 300!!!! Meanwhile Jim is riding across without a care in the world! We then turned onto scenic Rt2, running along the great lakes trying to get to WI....not quite enough time..ended up within about 3 miles of the border in Iron Mountain, MI. We unloaded, headed out to get some dinner...suddenly a COP car is on us!!!!! Jim found out MI has a helmet law! But Jim told him he was a Carlton and just like in Wachula, FL...the criminal mastermind got off with just a warning! Christine taught him well and now he is determined to use that trick in EVERY state we ride through!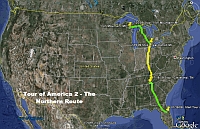 <= Click the map to see it full size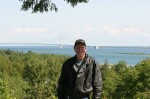 CLICK HERE TO SEE ALL OF THE PICS



---
7/21/09: HEADING WEST!!!!! Iron Mountain, MI to west of Minneapolis, MN
Left Michigan into Wisconsin, back into Michigan, back to Wisconsin then finally into Minnesota...Route 2 on the Upper Pennisula - you never know what state you are in - except the state of confusion. Nice riding all day, past lumber trucks, etc through the National Forests and back woods, very few people and vehicles...but the SLOW ones always seemed to get in front of us on the 2 lane highway. This area is mostly lumbering and tourists (camping, lake, hunting, etc...but mostly deserted due to bad economic times). Ugly storms approached as we headed south from Duluth, MN. See the video, looked like 3 or 4 tornados getting ready to form DIRECTLY OVER the highway we were traveling. VERY scary...but I kept the camera rolling for some good shots! Jim immediately got off and we found a small country store to get gas and under a roof while putting on our raingear....Saw Lake Superior and Minnesota for the first time!
---
7/22/09: West of Minneapolis, MN to Belfield, N Dakota
Left MN motel late, had rained overnight but weather was wonderful the entire day except a lightning storm in mid North Dakota - but we stopped for gas before we ran into it and it passed north of us before we got back on I94. It is FLAT out here! Averaged about 80-82mph a lot of the way. Gas is getting MUCH harder to find! Must remember that 99% of the gas stations are now located about 4 to 10+ miles OFF THE INTERSTATE!!!!! AMAZING!!!! While riding through the last of Minnesota we saw a herd of REINDEER!!!! Full/large antlers and all! Approximately 2 dozen were in a field near the highway (and we went by at 80+mph so I fumbled too long to get my camera and missed the shot!). Saw cars near Fargo with DIPSTICK HEATER CORDS hanging out of their engine hoods while driving! Also noteworthy is that we are seeing more windmills in each state (Michigan had some big ones near the bridge), Minnesota had one near the mall, and we saw at least 3 large ones in N. Dakota today. Stopped and stayed at the Cowboy Motel in Belfield, ND, near the Theodore Roosevelt National Park. We went for supper at a "Frontier Trapper Restaurant" and both of us got a Buffalo burger - seemed like the right thing to do, eat a Buffalo whenever possible!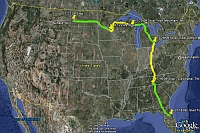 CLICK TO SEE ALL 7/22 PICS
---

7/23/09: Belfield, N Dakota to Boulder, Montana
We drove through the Theodore Roosevelt National Park - mostly a Badlands with canyons and multicolored rock formations, etc. Got a chance to irritate a bunch of Prairie dogs in their "town"...lots of squeeking at us. Then we saw wild horses pretty close to the road. Drove a short way further and saw buffalo and their young crazing. I let them know we ate Bobby Buffalo last night on a bun...then we hightailed it out of there before they could get us on a bun! We stopped at the Big Bear Harley dealership in Billings so that Jim could get his oil changed and lighten his wallet by a lot! On the way we also find out that the gas stations are getting even MORE further apart! We end up move some gas from Jim's tank to mine at 3 miles from the next gas station!...We ride through the Little Big Horn area - if you remember, Mr. Custer is the little-worse-for-wear from his last visit here! .We then rode to Boulder, through some more little rain and some cold...starting through some mountain areas in the dusk. Found a old motel, hot, no air, 1930's vintage???? Had to call a number posted on the door and got the owner to come over from one of the bars in town....OH and no internet...sorry fans, no log/picture/video updates...maybe in the next town we stop in....nearer to civilization/modern conveniences!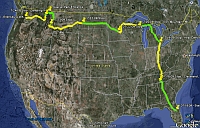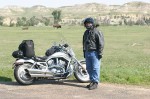 CLICK HERE TO SEE ALL 7/23/08 PICS
---
7/24/09: Boulder, Montana to Glacier Park to Kalispell, Montana
We got up and started up through Rt15. The first 40+ miles were beautiful mountain riding...then we hit the prairie. The wind was horrendous. We were hammered for almost 70 more miles with gusting sidewinds, my fluttering top of my windshield, and my helmet lifting up and down like a jackhammer - good thing my noggin is mostly bone! My neck and shoulders ache for days afterwards. We rode by a huge windmill farm near Shelby, MT - about 75 to 100 huge windmills...and more going up with cranes. We started west on Rt 2 through Cut Bank, MT, a small town with a huge two story tall concrete Penguin which brags about the town being the coldest place in America. They also had a sign about how many millions of barrels of oil and billions of cubic feet of natural gas they produce. Seems like they should have a Walmart or at least a traffic light! We keep riding (through some light rain for a short time) until we get to East Glacier and the huge hotel built by the railroad barons back in the day. We head north through the "gateway to the glacier" and get some advice in the village of Saint Mary where we enter the Glacier Park. On our ride through the mountains up to Saint Mary I happened to notice - there are no damn guard rails! And it is straight down 100's of feet to not-so-fluffy rocks below! AND parts of the road is covered with gravel (which is like riding on ice to a motorcycle).... The Canadian we get Glacier advice and antidotes from assures us that there ARE NO GUARD RAILS...BUT there are stone walls, SOME of the way...so that is good news..until he tells us they are only tall enough (about 12 inches) so that our bikes MAY NOT fall over the edge BUT WE CERTAINLY WOULD! I am NOT making this up! He also notes that there are waterfalls which actually run over the road and down the other side, ice and snow year round, avalanches of rocks and gravel and snow/ice, missing parts of the road, etc, etc. Note that I am not comfortable with heights, depths, and anything that washes/rolls me towards them. HOLY CRAP, we start up the road anyways! One more clue that maybe I should rethink this, the actual name of the road is - the "Going-to-the-Sun" Road...hmmmm...I wonder if it is going to go up very high?. We start up and looking back I can see the little ants..then I notice they are cars weaving their way back and forth through the loose gravel, and sheer cliffs....my heart stops, my digestive system clenches up into knots a sailor couldn't undo, and I couldn't pass a poppyseed even if my life depended on it! I inch my way up the mountain roads, more like goat trials...to Logan's pass. I am hunkered down as far as I can get on my bike - I'd crawl on my belly just about now so I wouldn't have to see over the edge! From there we can see snow glaciers above us AND below us on the sides of the mountains, waterfalls dropping for 100's of feet, etc. Also a deer runs across the parking lot, and two herds of bighorn sheep relatively close on the sides of the pass. Jim got ahead of me over the other side of the pass and waits as I inch my way down...going slow because IT IS FREAKING HIGH, did I mention no DAMN GUARDRAILS, and he is at the bottom of a shear rock wall where boulders drop down onto the road whenever they feel like it and are the average size of an Escalade! He is parked by a bulldozer that was trying to build a portion of the road back where it disappeared 1000's of feet below!!!!! WHAT WAS I THINKING???? Now we get to the beautiful part of the road WHERE THE WATERFALLS ARE HITTING THE ROAD - RUNNING ACROSS - AND FALLING 1000 FEET! See my pictures (yes I know, I am scared so bad I CAN'T crap my pants - BUT I AM GOING TO GET THE PICTURES - NO MATTER WHAT!). I continue inching my way down the other side while half of Montana is shutdown in a traffic jam since no one can get around me and I am not going to speed up! ;;;;Needless to say, we survived! Then we make our way to Kalispell for the night, stop and see a car show at the DQ, and then look for a motel....ALL BOOKED UP! Horse show, car show, etc and we can't find anything....start riding south through the hills, forests, around beautiful lakes, through Indian Nations...it is getting dusk/night and EVERYTHING for 50+ miles is booked!!! Stop at a place the looks like a KOA wannabe. All booked up. THEN the guy and his wife say "we really do not want you to go back on the road and ride your bikes at this time of night. The lady next door just hit a deer, lots of people in cars are hitting them, and mooses (meese?) are also running across the road." They suggest that last year a biker had slept on their pontoon boat (parked on a trailer!) and we could too, if we wanted to. We were exhausted and agreed...his wife piled us high with pillows, blankets, comforters (it is unseasonably COLD, OF COURSE!!) , plus towels and soap for hot showers! Things were looking mighty good! AND they had a laundrymat. Don't tell Jim, he probably doesn't realize, but after a week on the road in sun, rain, sweat, blowing dirt, plastered with bugs, and wearing our jeans at least two days each - WE REALLY STINK! (In fact we are NOW BANNED from many of the states we visited during this trip!) So we say goodnight to the very kind folks (charged us $5 each just for showers and cleaning the stuff they loaned us). We then start washing our laundry at almost midnight...since we want to get on the road early. Jim gets done early and goes to the boat to start making our blanket "nests" for the night...he comes back in in about 15minutes as mad as a hornet! He had laid down and felt something crawling on him, brushed it off and got stung! IT WAS A HORNET! I got done and went on the boat - could not see anything so laid down for the night at the front on the floor. Jim tried setting up way in the back - GOT STUNG AGAIN!!!! I killed a hornet by my area, Jim killed one on the wall,....AYE YI YI..A NIGHTMARE...AT MIDNIGHT! Jim moves to the bow not under its roof, and I am still at the front....hunkered down... We fall asleep...dreaming of rolling gravel, plummeting waterfalls, falling-bouncing Escalades, and voracious hornets....
...sorry fans, no log/picture/video updates...maybe in the next town we stop in....nearer to civilization/modern conveniences (like electricity, plumbing, INDOOR ANYTHING!
CLICK HERE TO SEE ALL 7/24/09 GLACIER PICTS
---
7/25/09: Kalispell, Montana to Idaho to Ellensburg, Washington
We woke up very early after trying to sleep on the pontoon boat, hornets buzzing around, mosquitoes biting, the dew settling on us, unseasonably cold, and the boat floor was hard......I awake at 6:30am (after on and off most of the night) UNSTUNG, but mosquito-bitten, and cold. A nice hot shower, loaded up our bikes and got the heck out of there as soon as possible. I did notice the captain's chair (near my feet) had hornets buzzing under it and flying around like maniacs. I whack it a few times so I can get some good pictures for the website! If I only had some poison I could send those little flying bastages to a well-deserved hell! We get on the road and have a nice ride through the rest of MT, Idaho (beautiful Coeur D'Alene area)..AND this part of the state is on 60+ miles across WAHOO!, then into Washington! Amazing...we find that east Washington is very flat, plains/prairie, and desert that is irrigated with canals and those irrigation systems half a mile long on wheels rotating over many of the huge fields. They grown wheat, alfalfa, corn, sweet corn, and potatoes. LOTS of potatoes! We see lots of Dust Devils (looks like a mini tornado maybe 5 stories tall or higher sucking up dust as they move across the fields). We get to the overlook on Columbia River and it is gorgeous...also viewed the Ginko Petrified Forest national park (6000 acres on opposite site of river). We travel west and everything is turning into "high desert", tumble weed type of scrub bushes and dirt, rocks, etc. We see another Wind Farm (25?) of wind mills on the ridge of mountain range. At our gas stop at Ellensburg, WA we see a truck with NY plates and stickers of windmills on it. I talk to the young guy who is a commissioning contractor for GE. They are building windmills quite aggressively. We decide to stay the night here...and find out, just our luck, that there is a festival in town and most of the rooms are booked...and ALL of the rooms ARE AT A HIGHER RATE! We find a room at Super 8....AND THEY HAVE INTERNET! I guess I will stay up until 3 or 4am so that everyone gets to see some pictures of Jim "Lewis" and Ray "Clark" exploring America!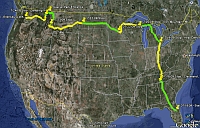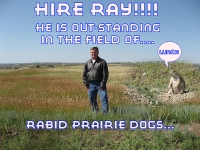 <=Remind me to kill Ron Sandusky for these pict graffitti!




CLICK HERE TO SEE ALL 7/25/09 PICS
---
7/26/09: Ellensburg, Washington to Seattle to Portland to Eugene, Oregon
Great weather and riding into Washington! Getting into the mountains and canyons and more picturesque areas. Stopped in Seattle and ate lunch at the waterfront, Space Needle, Domes, etc...beautiful, cruise ships, etc...riding south we got a view of Mount Ranier. LOTS of traffic...mostly stop'n'go headed north for probably 25+miles....good thing we were heading south!!!! The smell of the hay and the grain was nice (a nutty smell).
---
7/27/09: Eugene, OR to Phoenix, OR (getting Jim a new tire) to Mt Shasta, CA to Reno, NV
On our way to Reno, Nevada. Currently sitting at D&S Harley in Phoenix, OR getting a new rear tire for Jim's bike. He was going quite slow on the curvy roads...got him down to about 70-80mph while taking pictures with his right-hand and swatting yellowjackets with his left! www.dsharley.com Note these are the nicest people we have met at Harley dealerships as we have traveled across the entire country so far!!!
We continued on to Mt. Shasta, CA and the drive through the National Parks which include these volcanoes, Poison Lake, ancient lava flows, boulder fields (looks like boulders of molten lava landed after blast.....all while running through wonderful forests.....huge red trees, evergreen scent......Ended in Reno..from wonderful nature to mankind's most plastic, gaudy, unnatural...arg!
---
7/28/09: Reno, NV to Salt Lake City, UT to Park City, UT (Steve and Janet's place!!!)
We start towards Salt Lake City. We notice that northeast Reno smells like old dead fish...(or is that the Mustang Ranch??? I guess we'll never know! (And that's our story and we are sticking to it!) let's get out of there ASAP! Along the way Jim starts leading and Ray is snapping photos like some kind of 75mph demon-possessed camera maniac and is lagging behind by about 1/2 a mile....A woman passes him on her Harley Softtail and then Ray's VROD suddenly shuts down as he starts up a hill - in the middle of the burning 105 degree desert...Jim screaming along at 80+mph sees a Harley in his rearview (the woman) and thinks everything is fine...keeps hauling butt as fast as possible. Ray coasts to a stop at the side of the road..in the dust...and the deafening silence of the desert, the 110 sun beating down, the buzzards circling..waiting on the biggest feast they have ever seen - down there standing beside his Harley...already cooking! Ray frantically calls Jim 2 or 3 or 12 times...begging for water....but all he gets is Jims voicemailbox! How is he going to survive out here in the 120 degree heat? How soon before those mirages stop appearing? What are those voices in his head? Can one survive drinking urine in the 130 degree heat? In his delirious state Ray decides to try starting the VROD - holy crap! It starts! Unbelievable! Ray packs up his last will & testament, may have been "jumping the gun".....He rides off into the sunset (East towards Salt Lake City?)...The 3 dozen buzzards shrieking pitifully as they see their Guiness-World-Record "almost a feast" disappear over the rise!
Great ride then coming over the rise/mountain as we suddenly see the Bonneville Salt Flats - AMAZING!!! UNREAL!!! Just such a dramatic unexpected change going over one rise!! We take lots of pictures and then head on towards Salt Lake City. We ride up to Steve and Janet's beautiful home in the mountains near Park City, UT. The nicest people you could ever meet and Steve's garlic burger, marinated shrimp, and topped off with yellow raspberry pie, WOW! Then Janet's wonderful breakfast and melt in your mouth blueberry muffins right out of the oven...well you can imagine how hard it was to leave that little piece of heaven..."back to the interstate, Ben Stone"...and back to gas station breakfasts...lunches...dinners!...Jim is a tough taskmaster and if we are going to do another 1,000miles today, we can't stop to get real food..or peepee...or nothing! And as Janet always says "NEVER EVER pass up a chance to pee!". Yeah, you have to meet her - she is a CHARACTER! More stories, jokes, and obscure Bryan Adams songs than you can imagine! And she had us so stuffed with blue berry muffins that our Harleys STRAINED PITIFULLY to get us up the mountains the next day!
---
7/29/09: Park City to Salt Lake city (Harley) to Rifle, CO
We sobbed uncontrollably as we left Janet's huge breakfasts and tender loving care to get back on the road! We headed back 16 miles to Salt Lake City to have the Harley dealership check out Ray's VROD. We both had our oil changed, and the result on the VROD was...TADA..."Rear Cylinder Combustion Shutdown" as an incident 13 cycles before arriving at the dealership...Hmmm. In plain english, "This didn't sound like the total shutdown that was experienced in the desert....we don't know...ride it and see if you can recreate it." Well I have been riding it and all seems to be doing well.....I guess my girl (VROD) is okay...but just wanted some extra attention! We head out on a shortcut to Denver, CO by way of Vernal, UT (to see dinosaur footprints!!!!) The scenery is absolutely breathtaking! (Or is that all of Janet's muffins I stuffed into my belly suffocating me???) The rock formations, the unusual colors, shapes, windblown erosion, rivers and lakes....wonderful! We finally end up in Rifle, Colorado. The motels are packed with natural gas drilling people! Everywhere you look are white diesel crewcab pickup trucks! And every room has a Weber grill outside the door...I guess those natural gas boys like their BBQ! I wonder why they use charcoal instead of natural gas???? And another STRANGE thing, they ALL seem to SMOKE!!!! I hope they don't go on coffee/smoke break ON THE JOB! Utah and Colorado will have another Grand Canyon!!!!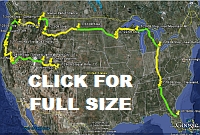 CLICK HERE TO VIEW ALL 7/29/09 PICS
---
7/30/09: Rifle, CO to Vail, CO to Colby, KS
Started out from Rifle, CO and it wasn't too long before we were seeing unbelievable canyons, mountains, etc! BUT then the rain began! AND THE COLD! The elevation was up to 10,090 feet! "Mile high city" is for wimps! We were 1 1/2 to almost 2 miles high most of the day!!!! We put on our raingear over everything we could layer...THEN THE ADVENTURE BEGAN: the driving rain, the bitter cold, the sharp curves, the steep grades UP and DOWN, the rain slick roads (and in some places - mud!), the traffic, and the cars running through standing water AND THE RESULTING TIDALWAVE of water and mud off the mountains covering us and our bikes! Instead of the 70-75mph we anticipated - we were running at half that..... BUT if you get a chance to run Rt70 west of Denver,CO be sure to DO IT! It has wonderful scenery, mountains, canyons, rafters on the river rapids, many tunnels through the mountains, and more! The clouds in the mountains were glorious BUT hard/impossible to photograph as we rode through the rain, mud, freezing cold! Our hands were so cold we could hardly bend the fingers and the leather gloves were wet the entire time. We battled to just get through to Denver and anticipated tropical weather as soon as we hit the plains....not so fast! We broke through the fog and rain on the city to be met by more cold until we were halfway across Colorado to Kansas. We took a wrong turn after going through Denver (Rt 76 instead of Rt 70, my fault) so we backtracked and hauled...to Kansas. We were so exhausted fighting the weather that we collapsed in Colby, KS. By the way, we heard that Bruce Rossmeyer was killed in a motorcycle accident out in this same area today. One mistake can be all it takes. This is a big loss with all the millions in contributions to the various children's charities, etc.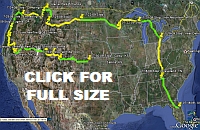 CLICK HERE TO VIEW ALL 7/30/09 PICS
---
7/31/09: Colby, KS to Hays, KS (Harley Dealer!) to Salina, KS to Oklahoma City, OK
Filled up our bikes with gas on our first stop, in Hays, KS and discovered that my rear tire was showing the belts! Only 8,000miles on it!!! Luckily we could see the Harley Dealer from the gas station and rode over. They had the tire and replaced it for "only" $299....ay yi yi!!!! We rode on but the wind was BRUTAL! The Kansas bikers we talked to at the dealership said that it was nothing, that they have 60mph winds at times. They said it was normal to be like we rode at about 30 degrees leaning over! They did say they have a problem - whenever the wind stops - all Kansas bikers fall over! We rode on into Oklahoma..not much to see compared to out west...flat...corn...flat...wheat...flat...WINDMILLS (KS)...flat...flat. Did I mention...it is FLAT out there! We finally arrived at Rebekah's house in Oklahoma City at about 8:30pm. They had a surprise for us! Big banners across the front of the house and garage which Leah had made - brings a tear to my eye! That and over 7,600miles of road to get there!!! Rebekah (my sister, that daddy always like best), her daughter Leah (13, model-to-be), Ruth (my wonderful baby sister - and a fantastic cook!!), Greg (my cousin - a General at Tinker AFB) and Marilyn (my aunt, retired and training pitbulls with a weedwacker) had a late dinner with us and we reminisced about growing up and what a wonderful brother I was and how they wished they had been nicer to me and not made my life A LIVING HELL. Hehehehe, that's my story and I'm sticking to it! Of course everyone fell in love with Jim and adopted him into the Shedden family as their brother... In fact at about that same time they disowned me!!! The ungrateful monsters! Jim went to bed at about midnight and we continued our stories (including weedwacking pitbulls for fun and profit) until about 2:30am. The murder-suicide, bulletholes in the ceiling, and related ghosties and goblins in the house didn't affect my beauty sleep BUT Leah's snoring on the sofa and all of her drooling threatened to!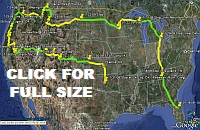 CLICK HERE TO VIEW ALL 7/31/09 PICS
---
8/1/09: Oklahoma City, OK to Arkansas to Memphis, TN
We wake up, still alive and un-axe-murdered, in the not-too-haunted house...and have a huge Oklahoma breakfast with everyone, sweet potato pancakes, Rebekah's breakfast casserole, AND A SIGHT NEVER BEFORE SEEN!!!!! - a teenager awake before noon on her summer vacation - AMAZING!!!! UNPRECEDENTED!!!! CALL GUINESS WORLD RECORDS!!! We tearfully wish everyone goodbye..and all the good homecooking from Ruth and Rebekah!!! and the modeling and murder-suicide re-enactments from Leah!!! AND the exciting pitbull stories from Marilyn "Weedwacker from Hell" Hallett!!! Unfortunately Greg can't leave with us and escape BUT we wish him the best!!!!! Rebekah hops on her motorcycle and rides with us, PRETENDING she is a biker hooligan, JUST LIKE US BIG BOYS! We head towards Memphis,when suddenly Jim remembers he better get something nice for his wife...SINCE SHE STAYED HOME AND IS WORKING HERSELF TO DEATH while we goof off!!!! WE stop in a little town - coincidently the HOME TOWN OF CARRIE UNDERWOOD (Chictoah, OK)! I help Jim pick out the best presents ever (but he put them back and got something else)...and then we ride off to Memphis...We ain't nothing but hounddawgs, a-cryin' all the time, we ain't caught a rabbit, and we ain't no friend of rhyme!!!!!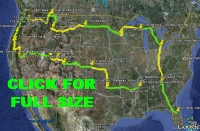 CLICK HERE TO VIEW ALL 8/1/09 PICS
---
8/2/09: Memphis, TN to Birmingham, AL to Atlanta, GA to Lake Mary, FL (arrived 2:15am 8/3/09)
We leave Memphis and as we hit Birmingham the rain starts and it REALLY comes down...all the way through Georgia! And the car wrecks are all over the place in Georgia, especially near Atlanta. The riding was miserable, driving rain, then lightning in south Georgia. We get off to get gas and see someone has plowed through the gas pumps with their Jeep Grand Cherokee. Jim experiences some difficulty starting his bike during two gas station stops. We thought we might have to stay in Georgia but his bike fires up eventually, each time. As we cross the Florida border the rain magically disappears and the riding is great, as we race through the night to make it home to our HunnyBunnies! We finally make it back to Lake Mary at about 2:15am! Jim finds that his horn and turn signals are no longer working....We made it home, safe and sound, only a little worse for wear!
TRIP SYNOPSIS: 8,275 miles!!!!! Temperatures of 40 to 110+ degrees. Altitudes up to 10,090 feet. Speeds up to 100+ mph. Rain and/or sprinkles 13 of the 15 days (worst places were going in Detroit at night and coming back in Georgia at night). 22 states, including: FL, GA, NC, TN, KY, OH, MI, WI, MN, ND, MT, ID, WA, OR, CA, NV, UT, CO, KS, OK, AR, and AL.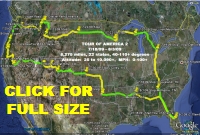 CLICK HERE TO VIEW ALL 8/2/09 PICS